Peninsula High School
Katherine Merrill Milner
This page hosted by Natalie Merrill, Mother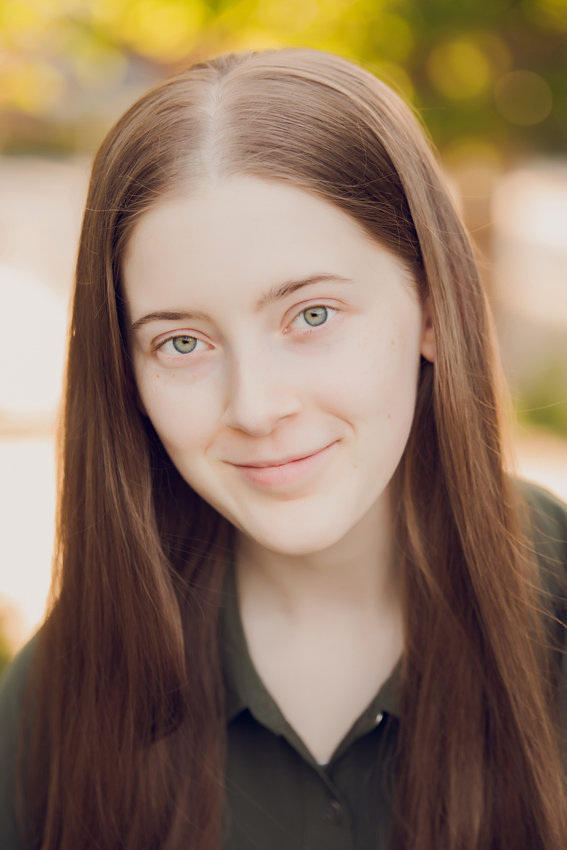 Quotable
All those who wander are not lost. This Tolkien quote is on her graduation cap. And, "zip zip the sound of traveling"as she zips up her suitcase. "That's why they call it luggage, you have to lug it!"
Katherine Merrill Milner is a 2021 graduate of Peninsula High School.
Recognitions: Academic honors, Clubs and activities, National Honor Society
Honors John Philip Sousa Award 2021. Pam Johnson Memorial Scholarship and Stanley Sather Memorial Scholarship. Peninsula Band Boosters Scholarship. National Library of Poetry winner 2017.
Activities Aerobic walking, cycling, baking, drawing. Musician; plays clarinet. Face painting volunteer painter, Earth Week volunteer for the American Chemical Society; Math Tutor.
Sports Marching Band, of course! Clarinet section leader, Band Council member, former cross country ski team member. Lettered in Junior and Senior years.
Top 10 list Pomegranates and rising crust pizza
Favorites Ms. Kurtz,, English; Mr. Stitt, Chemistry; Mr. Newton, Physics; Statistics: Mr. Gillis, Calculus; Mr. Bill, Comparative Religions; Swimming class.
A story Katherine found a "volunteer tree" growing in a flower bed, which needed to be weeded out. She carefully planted it in the backyard and now it's taller than she is!
Highlights Katherine has family in Washington but also in Pennysylvania, Tennessee, California and Colorado. We are all proud of her!
Jobs Katherine marched in the PHS band all four years and led the clarinet section, as well as taking a place on the band council and leading activities to help keep the band together during remote schooling. Katherine also participated in hybrid schooling and a little informal tutoring of classmates whenever asked. She served on a project for the National Honor Society Senior year, although pandemic restrictions affected the progress to completion. She volunteered for our Gig Harbor Library!
Etc Katherine has owned approximately 16 pets and countless plants; during the last year she has become expert at bird identification and birdwatching, among other things. She has learned cycling with clip on pedals, recently earned her drivers license, and is an excellent artist.
Looking forward Going to Penn State University, at the University Park main campus, in State College, Pennsylvania!
Most proud of Katherine's musical and academic dedication combined with the surprising amount of healthy learning in her aerobic walking class Senior year, and her great friendships, will take her far. Although she will be far away in college, it's been an honor to be in this community for so many years and those years will be remembered.